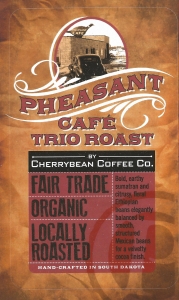 With roots as an authentic 1940's South Dakota café, coffee has always been important to us. In 2011, we teamed with Cherrybean Coffee Co. in rural Parker, SD to create the flavor profile for our signature coffee blend. We wanted a coffee that could be enjoyed throughout the day, was great with or after a meal, and paired especially well with Trevor's Artisan Ice Cream. After many thoughtful trials, Pheasant Café Trio Roast was born. Right away, our customers began to ask if they could buy beans to take home.
A rich and balanced blend of three beans, this coffee offers great flavor and aroma when brewed light, but also makes a rich, bold cup for the strong coffee drinker. Our locally-roasted beans are fair trade, organic and delivered fresh on Tuesdays.
Flavor Profile: Bold, earthy Sumatran and citrus-y, floral Ethiopian beans elegantly balanced by smooth, structured Mexican beans for a velvety cocoa finish.
We sell vacuumed, one-pound re-sealable bags of whole beans.
If you don't have a grinder at home, we can grind them for you in our commercial burr grinder.